This article describes how to install an HD TV Antenna to get free over the air channels, so you can get rid of the cable or satellite subscription.
Here is my TV Fool report. Note that some channels are not listed (e.g. CBC), but it provides you with an approximate list of what channels you can get, what power each is at, and which direction to face.
The nearest intersection for me is Fischer Hallman and Erb St W, in the west end of Waterloo.
Home-made Attempt: Coat Hanger Antenna
First, I tried a simple coat hanger antenna. I used a single bay (i.e. 2 V's only), with a matching transformer ($2 at The Source), and using it indoor. I was able to get Channel 13 and 6 only.
You can make a 4-bay antenna from coat hangers using these instructions:
Home-made Attempt: Pie Dish Antenna
Then I tried the pie dish TV antenna, and got the same results indoors (Channels 6 and 13 only).
Where to mount the antenna?
Initially, I thought of putting the mast and antenna on the roof, attached to the chimney using a antenna chimney mounting kit that distributes the load of the mast, so there is no need to drill holes in the masonry or the side of the house.
However, this was not practical because there is a big tree obstructing the path to the antennas in Toronto and Hamilton. This is why I ended up with a mast in the back yard, attached to the fence.
First attempt: Compact Antenna
Philips SDV8625T antenna. This antenna goes on sale for $50 at times, even if it is not advertised on the site. You can even find it occasionally for $20 at Factory Direct, so shop around.
The advantages is that it is compact and has a built in pre-amplifier.
With that antenna on a 10 ft mast it was able to get the following channels consistently:
Real Virtual Call Sign Comments
20    5-1    CBLT      CBC Toronto
17    6-1    CIII      Global
17    6-2    CIII-SD   Global (Standard Definition)
13   13-2    CKCO      CTV
25   25-1    CBLTF     CBC Toronto French
28   28-1    CICO      TVO
36   36-1    CITS      From Hamilton
And this one comes in most of the time:
15   11-1    CHCH      From Hamilton
This one is not consistent.
35   35-1    CHCJ      CTV 2 Barrie
On just one single night with the Philips antenna I got WNLO:
32   23-1    WNLO-HD   Independent Buffalo
32   23-2    Bounce    Older African American movies
Final Setup: Full sized antenna with external Pre-amplifier
Then I tried the Antenna: Channel Master 4228HD.
It is $120 at Sayal, with a 7 day return. It is cheaper at Research Electronic ($100) but with no return policy. Also cheaper at Angel Electronics ($90) in Mississauga, but you pay shipping and there is no return too.
Pre-Amplifier
A pre-amplifier is necessary in areas of low signal, such as Waterloo, and also necessary if you run anything more than a few feet from the antenna. It works by getting power over the same coaxial cable for the signal from an inside DC power supply, and amplifying the signal right at the antenna before it goes on the cable.
I initially got the Channel Master CM-7777 pre-amplifier ($100 at Sayal with 7 day return, same price at The Source, with 30 day return). This is the new design, with one input and one output, which people say is not as good as the predecessor with the same modem number.
It has the advantage that it comes in a weather proof housing, and includes a clamp, so you don't have to search for nor make any of those.
It worked OK, but I returned it to try the alternative (below).
What I ended up with is the KitzTech KT-200 (US$90 including shipping).
There is no weather proof housing that come with it, and in emails he said you get/make one yourself and make sure there is a hole at the bottom (to drain any water). What I did is just use a $2.50 Betty Crocker plastic container form the dollar store, upside down, and U-bolt (same as the one below from Home Depot), for $1.40.
The Kitz pre-amp is more sensitive to directionality, and you have to find a sweet spot if you want Hamilton and Toronto at the same time. One weird thing is that with the CM-7777 and with the Philips antenna, the PVR was always tuning better than the TV (gets more channels). With the Kitz, it is now the reverse, specially with the two jittery channels mentioned below. The Kitz pre-amp gets lower noise though.
They also sent an FM filter with it, but I did not notice any difference, since we don't have much channels in UHF, so did not end up putting it in the final setup.
Mast
For the mast, I got 2 X 1 inch diamater 10 ft length galvanized conduits ($12 each, also found at Lowe's), and attached them together using 2 x u-bolts (similar to these, $1.40 each). The top conduit is resting on the top of the fence so it cannot slip or slide, and the weight of the mast is on the fence. The bottom conduit is attached to the fence using 2 clamps. Each clamp has 2 screws to go into the fence. The total cost for 3 clamps and 6 screws is around $6.
The effective mast height is around 15 ft because of the overlap (~ 5 ft).
Pictures
This is a picture of all of the antenna, with the mast, pre-amp:


This is how the two conduits are bolted together into one mast: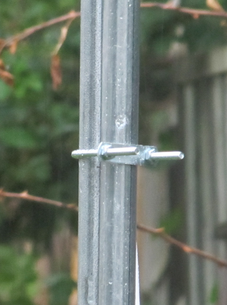 This is the antenna with the pre-amp: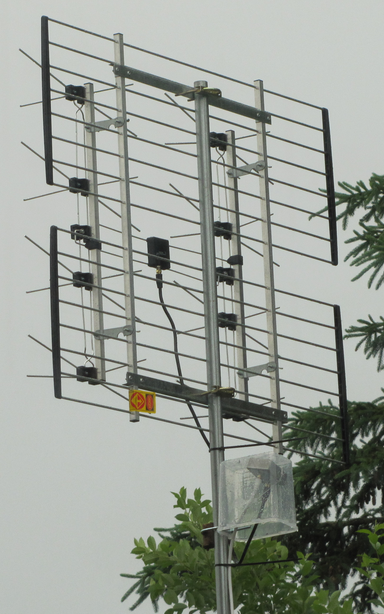 This is a close up of the pre-amp with the cover, u-bolted to the mast: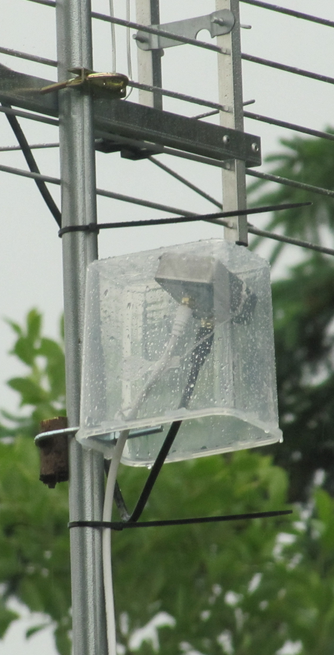 Cabling
The initial cabling was as follows:
Outdoor             | Indoor
------------------------
Antenna - Pre-Amp - | - Power Injector - Surge Protector - 3 way splitter
Ant = Antenna
Pre-Amp = Pre-Amplifier, on the antenna mast
Power Injector = Co-axial Power injector for the pre-amp (included in the package)
Surge Protector = APC Surge protector which has coax protection
As above, there is no separate cable for power: the same antenna cable is used to send power to the pre-amp from an inside outlet.
Then from the splitter, there are only two connections: one to the TV, and the other to the PVR (which has an ATSC tuner), each is an RG6 3 ft connection. One connection is unused, and uncapped.
The dashes in the above 'diagram' are all RG6 cables. All are 3 ft ($4.99 at Home Depot, or $3.99 at Sayal), except for the one form pre-amp to indoors which is 100 ft ($6 at Research Electronic, double or triple at Sayal, and much more everywhere else).
The 3 way splitter is an old 1990s from the pre-digital era.
For the final setup, I decided to replace the old splitter with a newer oen certified for more frequency ranges. So I got this IDEAL 4-way splitter ($10). Since you can inject power through it, I decided to remove the power injector, so that we have one less connection in the cable path, as follows:
Antenna -> Pre-Amp -> Through the house wall -> Surge Protector -> 4 way splitter
From the splitter, the DC power supply is connected as well as the TV and PVR. The extra output is terminated using coax terminator ($7.50).
The difference between the two setups is not really noticable.
Final Channel Lineup
With the Channel Master 4228 HD Antenna, and the KitzTech KT200 pre-amplifier, and a bit of experimenting with the antenna direction, here is the final channel line up:
Real Virtual Call Sign Comments
20    5-1    CBLT-DT   CBC Toronto
17    6-1    CIII-HD   Global Toronto, from Paris tower
17    6-2    CIII-SD   Same as 6-1, but standard definition
 9    9-1    CFTO      CTV Toronto (same as 13, but Toronto news)
15   11-1    CHCH-HD   Independent from Hamilton
13   13-1    CKCO      CTV Kitchener (same as 9 except for news)
19   19-1    CICA-DT   TVO Toronto
25   25-1    CBLFTDT   CBC Toronto French
28   28-1    CICO-DT   Same as 19, but from the Paris tower
36   36-1    CITS-HD   Christian from Hamilton, occasionally other stuff
40   40-1    CJMT      Omni
41   41-1    CIII-HD   Same as 6, but from CN Tower
41   41-2    CIII-SD   Same as 41, but standard definition
44   57-1    CITYTV    City TV Toronto
As you can see, there is some duplication, as some channels have identical broadcasts from different towers.
During the day, the following channels may be pixellated sometimes, but are usually watchable. They are mostly solid in the evening.
Real Virtual Call Sign Comments
35   35-1    CHCJ-DT   CTV Two
47   47-1    CFMT      Omni
Channel 57 (CITYTV) is sometimes like that too, but less so than the above two.
There is no American channels that come in all the time consistently. But at times, I get the following American as well as a distant CBC. This only happens in warm weather and early in the day and late at night.
This is due to tropospheric propagation.
Real Virtual Call Sign Comments
29    2-1    WKTVDT2   CW Central New York, transmitter in Herkimer, NY (east of Utica)
33    2-1    WGRZ-HD   NBC Buffalo 
      2-2    WGRZ-WN   NBC Buffalo News
      2-3    WGRZ-AT   NBC Buffalo, vintage programs, Black and White TV, ...etc.
24    3-1    WSTM      NBC Central New York, transmitter south of Syracuse NY
      3-2    WSTQ      NBC Central New York
      3-3    CNY       Weather and TV shopping
39    4-1    WIVB-HD   CBS Buffalo 
47    5-1    WTVH-DT   CBS Syracuse NY
38    7-1    WKBW-HD   ABC Buffalo NY
12   12-1    CHEXHD    CBC Peterborough, ON
43   17-1    WNED-DT   PBS Buffalo
     17-2    Think     PBS Buffalo, additional programming
32   23-1    WNLO-HD   Independent Buffalo
     23-2    Bounce    Older African American movies
26   26-1    WNYB-SD   Christian, Buffalo NY
     26-2    WNYB-HD   Christian, Buffalo NY
     26-3    WNYBSD2   TCT Kids, Black and White vintage stuff
14   29-1    WUTV-DT   Fox
     29-2              TCN
49   49-1    WNYO-HD   MyNetworn Buffalo
     49-2    GetTV     Older movies 
23   51-1    WPXJ-DT   ION, Buffalo/Rochester
     51-2              qubo, cartoons
     51-3              IONLife
     51-4              Shop, shopping
     51-5              QVC, shopping
     51-6              HSN, shopping
There are also these stations on non-digital broadcast, with variable reception.
Rattling the cables beside the TV changes things a bit sometimes, so that is something I am investigating, to see if a new splitter would improve things.
Total Cost
The total cost for the antenna, pre-amplifier, masts, cables, 4-way splitter, clamps, ...etc. is less than $325 including taxes. Details on cost of each item is above.
PVR for Recording
For recording in HD, I got the MediaSonic HomeWorx HW-150PVR for ~ $49 from BestBuy, with price match for Amazon.ca
Recording is to any USB disk formatted using NTFS. I use a 2 TB portable Toshiba Canvio drive ($110 at Staples, with price match for the out of stock BestBuy at the time).
Its user interface is really bad, but it does the job. One hour of video is around 6 GB with files having a .mts extension, whihc is the AVCHD format.
And, I am not really handy, so if I did it, anyone can do it too.