Welcome to the world wide web home of the Baheyeldin dynasty.
Here, you can find a profile of an Egyptian family, with part of it living in Canada, and part living in Egypt. You will also get some insight into what an Egyptian family looks like, their interests, and various other aspects.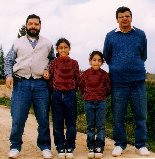 This picture includes all the members of the Baheyeldin Dynasty, as on March 2000.
Left to Right:
Other later additions (not in the picture above):
Hope you enjoy your visit here.