A month ago, Dave Schwartz completed a design for a Smart Hand Controller (SHC) for the OnStep open source telescope controller.
After completing the hardware, I ported the firmware for it, from the Teensy 3.x to the lower cost ESP32.
Here is a video that I did demonstrating the features.
PCB
Here is an image of the SHC PCB, V1.03.
You can order the PCB by itself from this EasyEDA project.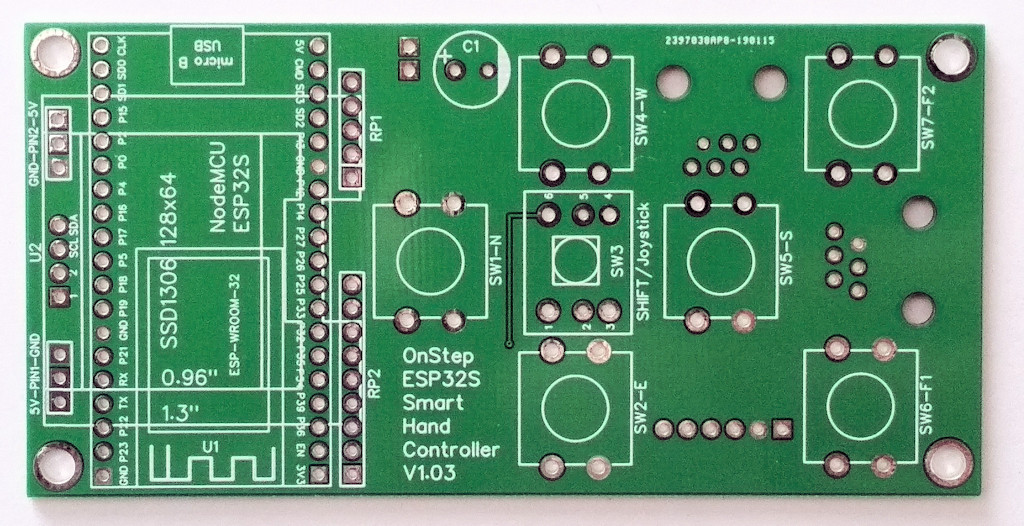 Alternately, if you cannot easily source Resistor Networks, you can use Roman Hujer's modified PCB which has normal axial resistros.
There is also a variant by Martin Laza without a PCB at all, and is more compact. The design also includes a custom SHC 3D printed case.
Infrastructure Kit
And here are the infrastructure components that form the kit.
You can find a Bill Of Material (BOM) with detailed description of each item, on the above link for the EasyEDA project. In addition to the BOM items, you can also use this 5-way 10x10x10mm Pushbutton from eBay to use as a joystick.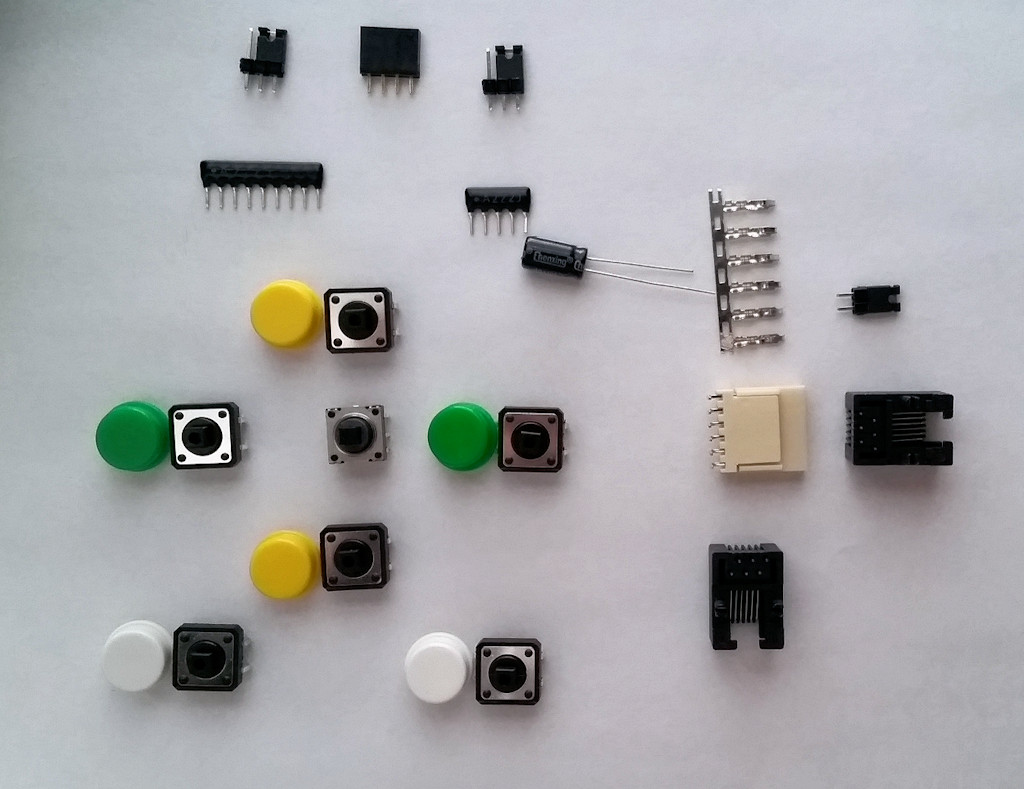 Functionality of the SHC
The general functionality of the SHC is described on OnStep's SHC Wiki page.
Ordering An ESP32 SHC Kit
Kits for building an ESP32 SHC used to be available for sale, but they are no longer sold.
You can order the pieces separately from eBay or AliExpress.
If you want to sell ESP32 SHC kits, please let me know what the link to the order form is, and I will include it here. A Google Form is usually sufficient.
Assembly Instructions for the ESP32 SHC
The OnStep Wiki Files section has the detailed assembly instructions.
The document also contains pictures of the parts that you can order at eBay or other online market places.
Notes
That that although the kit includes the plastic button caps with the 6 single-action buttons (because they came with the caps), there is no button cap included with the 5-way button (because it didn't come with one).
The 3D-printable buttons work better than the original buttons for the single-action buttons anyway so it is not really expected that they would be used once in the case. The buyer is going to have to 3D-print the 5-way button when it gets added to the case design (the caps for the single-action buttons do not work on the 5-way).
3D Printed Case
The instructions to obtain the STL files necessary to print your own 3D Printed case, are available in the above assembly instructions. The instructions also cover how to print the parts needed.
You can see pictures of a complete SHC with a 3D printed case in this post.