This web page has several photos from the E.G.C. (El Nasr Chatby College or E.C.C.) from the 1960s. Can you identify anyone there?
The photo below are from the E.G.C. class of 1966!
Click on the picture for a larger view.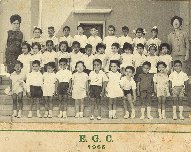 Left to Right. People whom I cannot recognize are marked by a - sign. Those that we are not sure of are identified by (?) following their name. Nicknames are enclosed by ()
Bottom Row:
-, Magdi Sabry Guendy, -, Essam Abbas, Mohga, Mostafa Asfour, -, Ehab Soliman, - (Out of Uniform), Manal Salama, Magdy El Rayes
Middle Row:
-, -, -, Shahira El Domyati, -, -, -, Alaa Kandil, Nihal Leheita, Khalid Baheyeldin, Seham El Habbak, Maha Gaballa
Top Row:
Islam, Mohamed Tawfik Elgayar, Ihab Beshai (?)?, Mohamed El Hake3, Abdel Aziz Salem (Zizo), Samar Mamoun, Adel Mekki, Hemmat Moustafa, Maysa El Toueissy
Teachers:
Left: unknown. Right: Nawal El Domiaty.
The photo below is from the E.G.C. class of 1968!
Click on the picture for a larger view.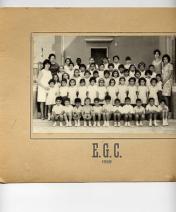 Bottom Row:

Khalid Baheyeldin, Ihab Soliman, Hisham Haseeb, Ahmed Fahmy, Magdy Sabry, Mohamed El Meligui, Mostafa Kaboudan, Essam Abbas, Magdy El Rayes, Adel Mekki, Ziad Elmously

Second Row:
Hala Maksoud, Amr El Souefi, -, Amal ?, Lobna El Eshmawy, Seham El Habbak, Zeinab Mourad, Magi Eskandar, Gihan ?, Maha Gaballah, Safa El Hagry, Hazem Sakr
Third Row:
Hadya El Helw, Yeldez El Sharoudy , Samar Maamoon , Nehad Aboul Fadl, Hala Farid, Nayera Mokhles (or is she Shahira El Domiaty), Hoda Elwan, Randa Sobhi, Safaa Weheba, Hanaa ?
Fourth Row:
Nagwa Anawaty, , Hemmat Moustafa, Zahraa ?, Hala Hosny, -, Jeylan Azab , -, Azza Hegab, Khaled Mounir El Gharabawy
Fifth Row:
May Weheba, Kagwa (from Kenya), Patricia Amante, -, -, Hashem (?)
Note: May and Safaa Weheba are cousins and not sisters !
Teachers:
Left bottom: Miss Trandeel, Left top: Mrs. Sameeha, Right bottom: (unknown) Right top: Miss Poppy.